Circuit Defenders Lite
Circuit Defenders Lite Beschreibung
Bitte beachten: Diese Beschreibung stammt von dem Programmierer und spiegelt nicht unsere Meinung wieder!
Circuit Defenders is a fast paced Tower Defense game where your challenge is to defend computer circuits from attacking virus armies that are infiltrating the circuits via the communications port.

Can you stop the enemy troops from infecting your CPU?

Be careful as some enemies shoot back, requiring you to not only manage upgrade paths for your towers, but manage their health status too!

Circuit Defenders Lite v1.2.2 has the following features:-

- 2 Fun and challenging levels
- 5 Amazing tower types
- Comprehensive tower upgrade attributes
- Fast and intuitive controls
- Game state automatically saved when pressing HOME or if game is interrupted.

What's in the full version?

- 11 Fun and challenging levels
- 8 Fantastic towers
- 4 Additional Challenge Game Modes
- More enemies
- Online High Scores
- Free Updates with more levels, towers and enemies
Circuit Defenders Lite Screenshots (iPhone):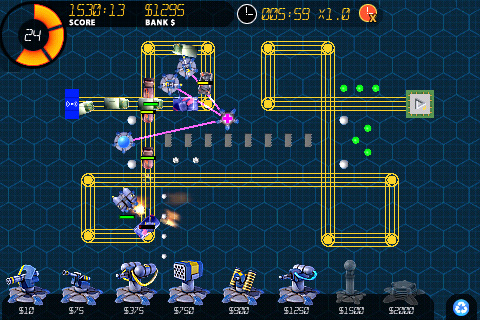 Du kannst unter folgenden Links downloaden bzw. kaufen:
Spiel-Statistiken: Likes: 0 · Kommentare: 0 · Kategorie: iPhone Spiele · 0
Gefällt Dir Circuit Defenders Lite?
Wenn Dir Circuit Defenders Lite gefällt, klicke bitte auf den Facebook Like Button. Aus den Likes generieren wir die Game-Charts und Spiele mit mehr Likes steigen in den Charts nach oben.
Ähnliche Spiele