Mega Snake – highly addictive
Mega Snake – highly addictive Beschreibung
Bitte beachten: Diese Beschreibung stammt von dem Programmierer und spiegelt nicht unsere Meinung wieder!
+++++++++++++++++++++++++++++++++++
Mega Snake - highly addictive
+++++++++++++++++++++++++++++++++++

Trete der "Mega Snake" Seite in facebook bei.

Holt euch noch heute den Bestseller Mega Snake auf euer iPhone, iPod Touch und iPad!


#Top iPhone Free APP – United States, United Kingdom, Germany, Canada, Nederland, Italia, Mexico, Nicaragua, Paraguay, Norway, Venezuela, Dominican Republic, Ireland, Panama, Romania, Peru, Pakistan, Jordan, Ecuador, New Zealand, Portugal, Bulgaria, Malta, Russia, Taiwan, Argentina, Lebanon, Turkey, Armenia, Belgium, Sri Lanka, Thailand, Poland, Estonia, Honduras, Colombia, Guatemala, Austria, Denmark, Israel, United Arab Emirates, Chile, Switzerland, Saudi Arabia, Kuwait,...

#player reviews
"Addictive and super fun!!"
"Greatest game in the history of mobile Games!!!!"
"I love this game! Instead of having a life I play this game
nonstop!!!!"
"Way better than the original snake game, only on the iPhone!"

#Features
+ 4 Steuerungsarten
+ 4 verschiedene Karten
+ 5 coole Skills
+ 25 Items
+ HD Grafiken
+ brilliante Sounds
+ umfassende online Highscore
(Facebook & Twitter)
+ Shop
+ Inventar

#Spielanleitung
Hilf der hungrigen Schlange zu wachsen indem du soviel Äpfel wie möglich isst. Aber vorsicht die Schlange wächst mit jeden Apfel, und verbraucht dadurch mehr Spielfläche. Fährt die Schlange in sich selber, oder in den Rand, verliert die Schlange ein Leben. Sind keine Leben mehr vorhanden, endet das Spiel.
Anschließend kannst du deine Punkte einfach mit den Punkten aller anderenen Spieler weltweit vergleichen und erfahren wie gut du bist.

++++++++++++++++++++++++++++++++++++++++++++++++++++++++++++++++++

ner Brothers hofft dir gefällt das Spiel, und schreibt bitte feedback!
Mega Snake – highly addictive Screenshots (iPhone):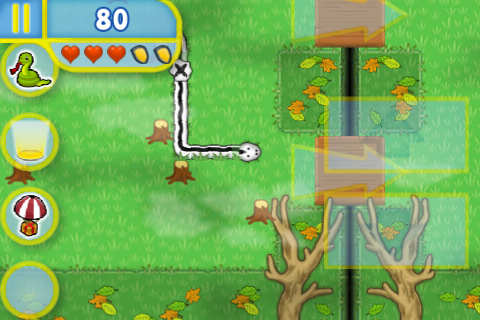 Du kannst unter folgenden Links downloaden bzw. kaufen:
Spiel-Statistiken: Likes: 0 · Kommentare: 0 · Kategorie: iPhone Spiele · 0
Gefällt Dir Mega Snake - highly addictive?
Wenn Dir Mega Snake - highly addictive gefällt, klicke bitte auf den Facebook Like Button. Aus den Likes generieren wir die Game-Charts und Spiele mit mehr Likes steigen in den Charts nach oben.
Ähnliche Spiele