The Wars
The Wars Beschreibung
Bitte beachten: Diese Beschreibung stammt von dem Programmierer und spiegelt nicht unsere Meinung wieder!
Time Limited Offer - 67% off SALE!

Progress through the ages of time, beginning from the stone age all the way to the nuclear age in "The Wars". The idea of the game is simple - destroy your enemy base. Think strategically and tactically decide the balance between both attack and defense to succeed. Remember that you cannot repair your base during battle.

As you progress and kill all the enemies you will collect experience points, spend these to move onto the next of 5 available ages. Each age has its own unique units, defense levels and special weapons for when it gets heated!

Try the medium and hard levels for more of a challenge to become a War master!

Planned future additions:
- More defense weapons
- More units
- More ages
- More difficult levels

The Wars is developed by Deluxeware
The Wars Screenshots (iPhone):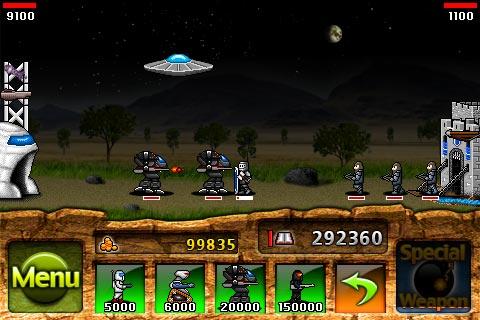 Du kannst unter folgenden Links downloaden bzw. kaufen:
Spiel-Statistiken: Likes: 0 · Kommentare: 0 · Kategorie: iPhone Spiele · 0.89
Gefällt Dir The Wars?
Wenn Dir The Wars gefällt, klicke bitte auf den Facebook Like Button. Aus den Likes generieren wir die Game-Charts und Spiele mit mehr Likes steigen in den Charts nach oben.
Ähnliche Spiele