Tower X
Tower X Beschreibung
Bitte beachten: Diese Beschreibung stammt von dem Programmierer und spiegelt nicht unsere Meinung wieder!
An amazingly addictive and beautiful tower defense game, Tower X will not let you sleep.

### ON SALE! 0.99USD for a limited time. This is a universal app which will run on your iPad, iPhone and iPod Touch with one purchase! ###

Features:
- Runs on iPad, iPhone and iPod Touch
- Insanely addictive
- High quality vector style graphics and animations
- Highly balanced for tower defense lovers
- Gamers at any skill level can get into it
- Easy to play but tough to become an expert!
- An excellent, pumping soundtrack by Redshirt Theory
- Increase your game speed when you become awesome at the game
- 8 unique levels
- 12 types of towers consisting of laser, heat, virus and cold towers
- Unlimited mode so you can play forever
- A myriad of achievements to accomplish
- Zoom in and out of the arena seamlessly with pinching
- High scores that you can compare to your mates
- Automatic saving and resuming
Tower X Screenshots (iPhone):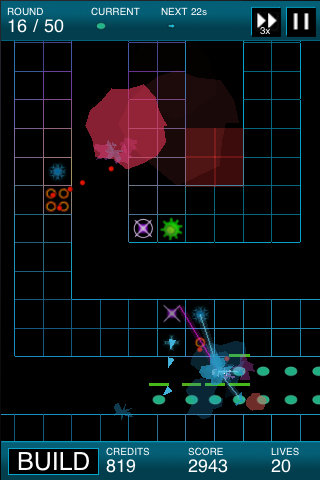 Tower X Screenshots (iPad):
Du kannst unter folgenden Links downloaden bzw. kaufen:
Spiel-Statistiken: Likes: 0 · Kommentare: 0 · Kategorie: iPhone Spiele · 0.89
Gefällt Dir Tower X?
Wenn Dir Tower X gefällt, klicke bitte auf den Facebook Like Button. Aus den Likes generieren wir die Game-Charts und Spiele mit mehr Likes steigen in den Charts nach oben.
Ähnliche Spiele